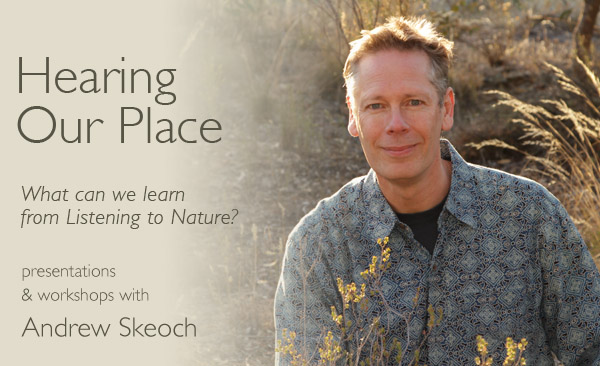 "Extraordinary and enriching in so many ways… " LH
"The thought provoking ideas that Andrew put forward have had me thinking all weekend and will stay with me. An interesting and complex subject extremely well presented." DA
Andrew Skeoch is an educator, naturalist, environmental thinker and one of Australia's best-known nature sound recordists. Over the last twenty years, he has journeyed to remote locations in Asia, India, America, Europe, Africa and the Pacific in search of some of our planet's most beautiful and fascinating sounds.
Combining his areas of expertise with a deep curiosity, Andrew explores the crucial role of sound and communication in nature and evolution. He weaves the latest scientific understandings into a fascinating celebration of the natural soundscape around us.
His intriguing presentations are supported by audio recordings made over 20 years in wild habitats the world over, and will have you appreciating nature from an entirely fresh perspective.